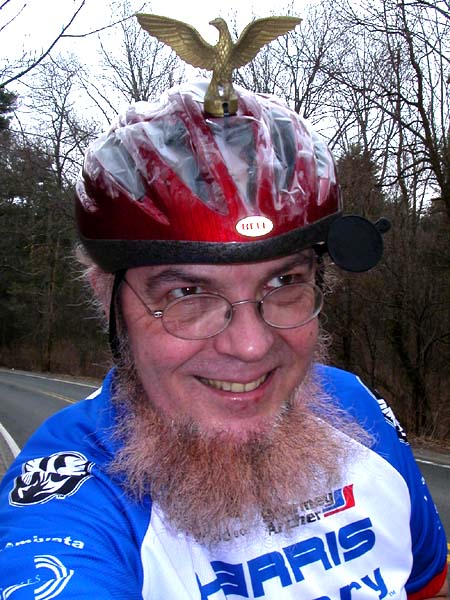 It was a beautiful afternoon to ride home and I had time to think about Sheldon Brown. What a wondrous time we live in now! I feel the loss of a cycling friend with whom I never got to ride, or to drink a beer or even talk face to face. Yet due to the internet, I was able to be friends with Sheldon Brown, through his postings on the
BOB
list, on the
Bicycle Restoration
List, on the
KOG
list and more that escape me right now.
If you ever had a bicycle question on the internet, you had to have encountered Sheldon and you couldn't help digging deeper and getting distracted from what you had come to look up. If you ever posed a bicycle question on a list or newsgroup, you stood a pretty good chance of getting an answer from Sheldon, directly and a reference to his page. His few podcasts about English 3-Speeds and recumbent bicycles were informed without a hint of condescension.
Left hand drive? Done
it
.
Build a tandem from two old bikes. Sheldon had
done
it.
He made it clear, for me, at least, that bicycles existed to be ridden not hung on a wall. His 1918
Mead Ranger
was all the evidence anybody needed.
And to ride a fixed-gear, one couldn't build one up without consulting
Sheldon
once or twice.
He was opinionated, informed and I would have loved to have met him and drank a beer or two with him. He was also generous with his time, energy and knowledge, answering most of the 500-1000 emails he received daily. I recall he responded one time to a question about buying bikes at the Salvation with a diatribe about "monotheism" and had to be restrained by the moderator. His home page included these 2 lists, along with every book, movie and television show he watched or read.
Some Things I Believe In
* Democracy
* Duty
* Equality
* Exogamy
* Family
* Freedom
* Justice
* Kindness
* Law
* Love
* Loyalty
* Mathematics
* Science
* Space Exploration
* Truth
Some Things I Do Not Believe In
* Angels
* Astrology
* Death Penalty
* Devils
* Elves
* Faeries
* Faith
* Gods
* "Intelligent Design"
* Leprechauns
* Luck
* Magic
* Racial Purity
I often say that I don't, myself, believe in eternal life, physically, at least as religious people describe. I do believe that good people live on in our memories or in the good deeds we repeat after learning from one another. Sheldon will live on, everytime someone needs information about fixed gears or rebuilding a 3 speed hub.